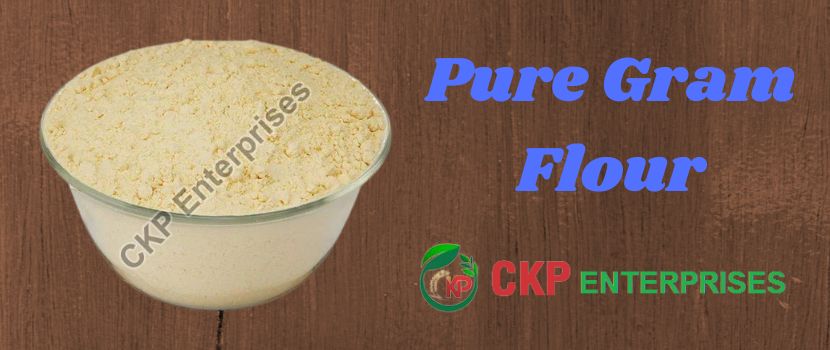 Pure gram flour possesses lots of health benefits for its users. You can easily buy quality flour online!
Pure gram flour, also called chickpea besan or flour, is a kind of flour prepared from ground chickpeas. It is a flexible ingredient primarily used in different cuisines, particularly Indian cooking. The best thing about the product is that it is completely gluten-free and has a special nutty flavour.
It is considered an excellent alternative to refined wheat flour. Not only is it lower in carbs and calories, but it's also high in fibre and protein. It is high in folate and protein and packed with antioxidants, minerals, and vitamins; it is highly optional to complete a balanced meal. It is a wise alternative to wheat flour as it is inferior in carbohydrates yet richer in fibre and protein.
It is widely used in different types of culinary applications:
Used for the cooking
Gram flour is widely used to make special savoury dishes such as chillas (pancakes), pakoras (deep-fried fritters), and different kinds of Indian snacks. It's a prime ingredient in dishes such as kadhi and besan curry, which are quite popular in Indian cuisine.
Baking
In vegan and gluten-free baking, gram flour is widely used as an alternative to wheat flour. Moreover, the flour can be widely used to make special flatbreads, pancakes, and even baked goods such as cakes and cookies.
Have a special thickening agent
Gram flour is often used as a thickening agent in stews, soups, and sauces due to its aptitude to thicken and bind liquids.
Face Masks
Apart from its culinary uses, gram flour is also used in beauty treatments. It can be mixed with more material, such as milk or yoghurt, to make face masks that are believed to help with skin issues like oiliness and acne.
Option for a Gluten-Free Product
As it doesn't contain gluten, gram flour is sometimes used by people who are sensitive to gluten or suffer from celiac disease.
It is considered one of the most nutritious ingredients, loaded with protein, fibre, vitamins, and minerals. It's significant to note that while gram flour is commonly safe to use for the majority of people, anybody with allergies or sensitivities must be cautious and read product labels to ensure purity and keep away from cross-contamination.
Shelf Life
The shelf life of the product is about 1 year and 4 months. So, it would be better to use it as per the requirements.
Place your bulk order online
If you are interested in placing bulk orders as a retailer, it would be better to find the best manufacturer and supplier online. They supply the product in bulk as per your requirements. Do some homework to find some reliable and trustworthy suppliers. It will help you find the best product being supplied by the top suppliers and manufacturers. Also, check the price and quality of the product beforehand. It is better to read the reviews shared by past customers.