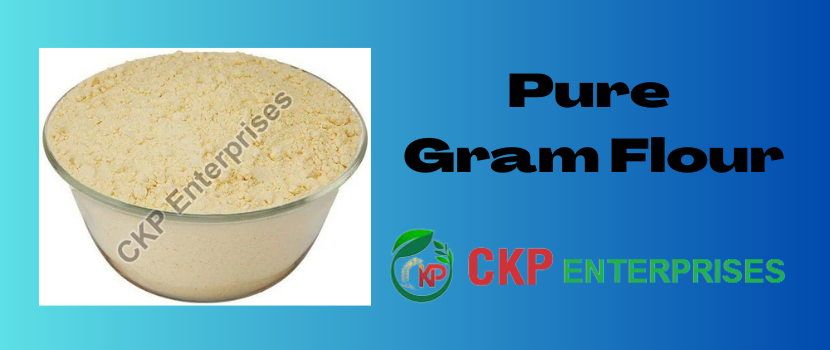 Pure Gram Flour, often known as besan, adds nutrition and flavour to your diet. Chickpeas, either raw or roasted, are used to make this gluten-free flour. It has a high fibre and protein content and might help with digestive issues.
Moreover, it aids in blood sugar stabilization, which may aid in the management of diabetes. The flour is also excellent for heart health and weight loss.
Acne Treatment Aid
Acne-causing infections can be fought with the zinc in gram flour. Moreover, fibre lowers blood sugar levels. Your hormones may be stressed by unbalanced blood sugar levels, which will result in breakouts or pimples. Gram flour can stop that.
Takes Tan Off
Do you want to know how to remove a tan using Pure Gram Flour? So combine yoghurt, 1 teaspoon of lemon juice, and 4 teaspoons of besan. To get a smooth paste, add a touch of salt and combine. Apply the mask to your entire face and neck, then give it time to dry. Use cold water to rinse. This process may be repeated every day before you take a bath.
Peels Off Dead Skin
Also, you may exfoliate your dead skin using gram flour by using it as a body scrub.
Just combine 3 teaspoons of the flour with 2 teaspoons of corn flour and 1 teaspoon of crushed oats. You may also include a little raw milk. Completely combine. After scrubbing, apply this mask to your body.
Reduces Cholesterol
A study from the University of Toronto found that eating one dish of chickpeas per day can lower harmful cholesterol. Gram flour by Pure Gram Flour Supplier is a good source of soluble and fibre, which can help lower cholesterol. In one Australian study, gram flour-based diets reduced bad cholesterol more than wheat-based diets.
Manages Diabetes
According to studies, eating just legumes (particularly chickpeas) can benefit diabetics' health. Merely incorporating them into your diet will help you avoid developing diabetes as well as its linked conditions. Most significantly, it is known that legumes have a low GI.
Enhances Heart Health
Gram flour's abundance of vitamins, minerals, and fibre makes it a healthy food choice that can help your heart. Heart disease risk is reduced by legumes. You can get the same amount of potassium from three tablespoons of gram flour as you would from a banana. Moreover, potassium is known to reduce blood pressure, which also serves to protect the heart.
Because chickpeas are nutrient-dense and have a high ratio of nutrients to calories. you can eat multiple servings of them each week.
Healthy Gluten Replacement
If you have a gluten allergy, gram flour by Pure Gram Flour Supplier is a blessing. It is inherently gluten-free. It may also be a wonderful complement to practically any savoury dish or dessert because of its mild flavour.
The flour is so nutritious that it is utilized as a staple not just in India but also outside of it.
Final Words
Gram flour has several health, beauty, and skin advantages. It has a ton of protein and fibre. It helps with acne management, tanning removal, dead skin removal, oil reduction, and facial hair removal.
Moreover, gram flour lowers cholesterol, controls diabetes, and supports the health of the heart, bones, and brain. It controls dandruff, encourages hair development, and conditions dry hair.